The Bar-B-Q Shop
Home of the Dancing Pigs Bar-B-Q Sauce & Dry Seasoning
Originators of Bar-B-Q Spaghetti
Originators of the Texas Toast Bar-B-Q Sandwich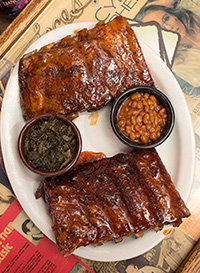 The Bar-B-Q Shop, voted #1 ribs in America by the Food Network's "Top Five Restaurants", located @ 1782 Madison Ave, Memphis, TN 38104, in the heart of Midtown, less than a mile from the Overton Square Entertainment District, is a local Memphis barbecue eatery that opened in November of 1987. It is a place known for real-pit barbecue with old fashioned barbecue sauces and cole slaw that are made from scratch.
The unique taste of The Bar-B-Q Shop's gourmet award winning sauces has always been something that has set The Bar-B-Q Shop off from other barbeque restaurants. The recipes for our gourmet sauces have been around for over fifty years.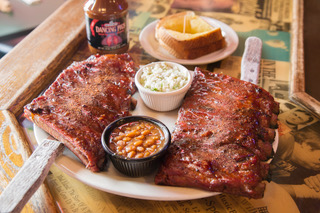 The Original (mild) Sauce provides a thickness that can be used to baste, marinade, or provide flavoring for your meat of choice.
Our Hot Sauce also provides the same level of thickness but with a little warmth behind it. Our Hot Sauce does an excellent job of providing your meat with a hot flavor without taking away from the barbeque, smokey flavor itself.
The Bar-B-Q Shop's Dry Seasoning was created later by Frank Vernon in the mid eighties. Our Dry Seasoning is an extraordinary seasoning because it can be used to season anything from chicken breasts, hamburger steaks, salmon or fillet catfish, to even a beef roast. The seasoning can be used with a marinade while prepping your food item, or it can be applied when your food comes out of the oven.
The Bar-B-Q Shop outside photo is courtesy of photographer Joshua Jacobs.