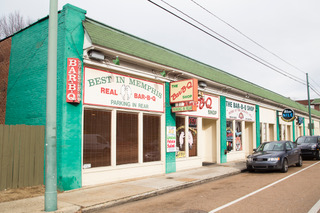 The Bar-B-Q Shop was originally Brady & Lil's Bar-B-Q Restaurant. Brady Vincent had a love for barbecue and pasta. Mr. Brady trained Frank & Hazelteen Vernon about the fundamentals of cooking and preparing barbecue before he retired in 1981.
The Vernon family changed its name to The Bar-B-Q Shop six years later. Since The Bar-B-Q Shop's humble beginning, it has gained a very loyal following which did everything in their power to not only make us a Midtown favorite but a Local town favorite. With word of mouth, loyalty, and the following of our customers, we were able to expand the restaurant into twice the size of the original restaurant.
The Bar-B-Q Shop has always valued its longtime customers. They are often considered family and motivation for us to keep doing such a good job.
We developed such a great reputation for our sauce that we created our own signature brand called Dancing Pigs Bar-B-Q Sauce which is carried in The Kroger Grocery Stores in the Delta Marketing Area. Dancing Pigs Bar-B-Q Sauce has two flavors: Original (Mild) and Hot. We also have a Dancing Pigs Dry Seasoning for all you dry rub lovers. Dancing Pigs can be bought at The Bar-B-Q Shop as well.
The Bar-B-Q Shop over the years has become a destination point for traveling people traveling to Memphis while holding on to the title of "Where the Locals Go". From the Food Network to the Travel Channel, we have been featured several times on each of these networks and we are considered one of the best in Memphis, TN!!!!!!!!!
MORE HISTORY: DANGING PIGS PRODUCTS
In 1995, the Vernon family decided to give their sauces and seasoning more of a branding. So they came up with The Dancing Pigs Product line. The Vernons wanted a product name that would be catchy enough to stay in the minds of the consumers but also a brand name that could stand on its on outside of the Memphis area. So, by taking the original pigs from The Bar-B-Q Shop and giving them a fresher look and title, The Dancing Pigs were born. Soon after giving birth to this new concept, we were permitted by the Kroger Grocery Chain to introduce our sauces and seasonings to the Memphis area. We started out with 10 Kroger stores in the Memphis area; and by the next year, we had moved up to 24 Kroger stores. At that time, we were hand delivering our sauce personally out of the back of a Ford Bronco. Presently, we are in over 100 Kroger Grocery Stores within 5 states, and we are looking to expand into other areas as well.
Our Sauces and Seasoning have placed in contests over the years and have won first place in the Fiery Food Challenge national contests. We competed against 600 – 800 entries across the country.